If you live in North America, chances are you're about to lose an hour's sleep. In most of the U.S., Canada and a half-dozen other countries, daylight-saving time begins at 2:00 a.m, Sunday, March 13 when we move our clocks forward one hour.
As these six properties prove, 60 minutes of shut-eye is a small price to pay for an extra hour of sunshine—every day for six months. And how better to make the most of these longer days than settling into a stunning sunset? Whether you're sipping mojitos in Miami, basking in Beverly Hills or being pampered along Puget Sound, these homes have the right views.
Los Angeles
Coldwell Banker Residential Brokerage Beverly Hills North
PRICE: $19.975 million
BEDROOMS: 6
BATHROOMS: 6
In Los Angeles, smart money heads into the hills, where the best city and ocean views open up on command. This newly renovated six-bed, six-bath was originally built in the 1950s on the former Doheny Ranch, but it's now a thoroughly modern addition to Beverly Hills' posh Trousdale Estates.
---
New York City
Brown Harris Stevens
PRICE: $57.5 million
BEDROOMS: 3
BATHROOMS: 5.5
As in Los Angeles, New York City rewards altitude. It also helps to live on the city's west side where, on the right day, even New Jersey can be the setting for a spectacular sunset.
---
Miami Beach
One Sotheby's International Realty
PRICE: $11.9 million
BEDROOMS: 5
BATHROOMS: 4
When shopping in Miami, some say it's best to look east, over the ocean. For those living on the Venetian Islands, sunset over the skyline is the real selling point.
---
Seattle
Coldwell Banker Bain
PRICE: $5.495 million
BEDROOMS: 5
BATHROOMS: 4.5
Who needs an ocean? Find the right spot in Seattle, and sunset over Puget Sound rivals anything you'll see in the Caribbean. Added bonus: mountains.
---
Arizona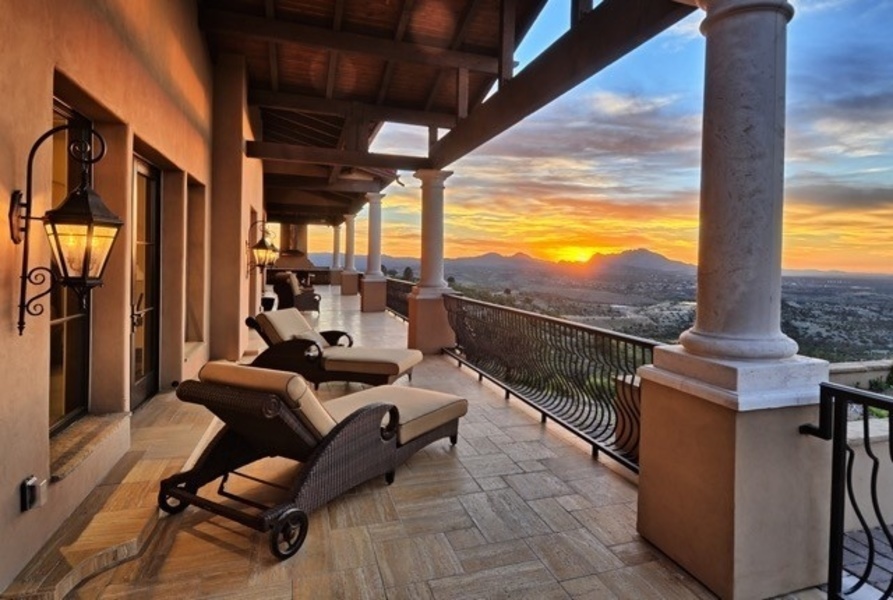 Signature Properties
PRICE: $12.45 million
BEDROOMS: 3
BATHROOMS: 5
This Tuscan-style 11,072-square-footer has a lot going for it, not least being a LEED-certified smart home that's packed with top-flight amenities. But with this sunset view from the Yavapai Hills, you may forget all about the pool, sauna and wine cellar.
---
Palm Springs
Coldwell Banker Residential Brokerage – Newport Beach
PRICE: $32.5 million
BEDROOMS: 6
BATHROOMS: 7.5
Frank Sinatra and Bob Hope loved Palm Springs for good reason, but there's a lot to be said of La Quinta, located 30 minutes to the southeast. At this 17,000-square-foot desert escape, you're treated to sunset views worthy of Hollywood royalty.
Stay up to date with Mansion Global newsletters
Follow Mansion Global:
Facebook |
Twitter |
Instagram |
LinkedIn |
Messenger
Write to us:
info@mansionglobal.com